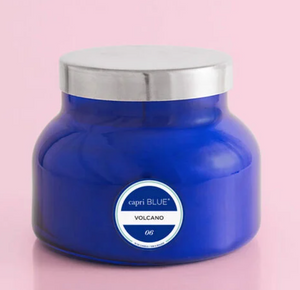 Volcano Blue Signature Jar Candle
Regular price
$34.00
$34.00
Unit price
per
Volcano Blue Signature Jar 19 oz. Candle Candle, burn time up to 85 hours.
With its signature silhouette and dynamic cobalt blue look, this Capri Blue classic speaks to its history as a cult favorite. Volcano is an energizing blend of exotic citrus and sugary notes. Feeling like you're in a scented paradise doesn't have to include flying miles away. Fill your space with the enchanting and tropical scent of the unforgettably iconic Volcano candle.
We know you want to know what you're smelling so here's the low-down. The Capri Blue wax blend consists of mostly soy wax with a small amount of food-grade paraffin (what they rub on apples to make them shiny!). Our all-natural soy wax blended formula has been fine tuned to give the ultimate fragrance experience for our awesome customers.  While soy wax is highly sought after for its sustainable and natural characteristics, adding paraffin to our wax helps to provide a longer burn time (YAAAS!) as well as provide a more fragrant experience than a 100% soy wax candle would (DOUBLE YAAAS!).
Capri Blue uses a variety of cotton braided wicks, which are individually chosen based off fragrance and vessel combination. It's all based off our goal to give you the best fragrance experience possible!
Candle Burning 101
No.1 Always allow your candle to completely liquefy across the top before blowing it out to avoid tunneling
Think of it this way – candles have a memory. Wherever it stops burning the first time, it will continue to stop there every time you burn it causing it to tunnel if it has not liquefied all the way across.
No. 2 Always keep your wick trimmed to ¼"
And remember to trim your wick before the first burn, too.
No.3 Don't drop debris, like matches or wick trimmings, into the wax
#SafetyFirst!
No.4 Don't place your burning candle on sensitive or uneven surfaces
And, of course, never leave your burning candle unattended.
No.5 Discontinue burning your candle when about ½" of wax remains
Don't fret. It's normal and necessary to have a little wax leftover so that you don't expose the bottom of the wick.
No. 6 Repurpose that beauty!
Our containers are designed for reuse, so don't let that gorgeous vessel go to waste! 
---
Share this Product
---